Serious Injury Accident Attorney • Temporary and Permanent Disability • Construction Accidents • Car and Truck Accidents • Death Claims
If you have been seriously injured in an accident in Texas, contact the Law Office of Vicki K. McCarthy as soon as possible for a free consultation.
When our clients have suffered from multiple or catastrophic injuries in serious car accidents or workplace casualties, we understand that life will never be the same. We also understand the victim's immediate and long-term needs for monetary compensation. Contact us at the Law Office of Vicki K. McCarthy to learn how we have helped many personal injury victims since 1988, and how we can help you, as well.
Losses and Injuries
At the Law Office of Vicki K. McCarthy we know that your needs and your family's needs are great due an amputation, paralysis, debilitating back injury, or head injury. You have huge medical bills. Your new permanent disability means that are no longer able to work as you did before. Your family faces new expenses of many kinds. We understand that your situation is urgent, and we are ready to help.
If your accident occurred as a result of someone else's negligence or because of a defective product, we share your determination to hold those responsible accountable for their actions and make sure you are compensated fairly. We are committed to using every tool available to us to bring about a fair settlement or verdict that will give you the financial relief you need to cope with your losses and go on with your life despite the temporary or permanent disability brought on by the injury.
Aggressive Representation
Our staff manages every aspect of our clients' personal injury lawsuit cases in-house. We understand that you have many expenses you need to pay now and can't wait years to get your compensation. We communicate with medical care personnel from day one in order to ensure that you continue to receive treatment as long as needed while waiting for payment from your settlement or verdict. To help cases settle in a timely manner, we bring in professional investigators or additional attorneys if necessary.
Through our own video productions and other visual presentations, we communicate your situation vividly to insurance adjusters, judges, and juries. Our proven techniques have brought much-needed relief to many injured clients. Best of all, there is no cost to our client unless we obtain a settlement or verdict for you.
Contact our firm today to schedule a free consultation. If you are unable to travel due to your injuries, we will come to you.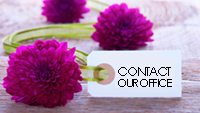 CONTACT US
contact our office by clicking the link above