Dallas Ft. Worth, Texas, Personal Bankruptcy Law Firm
Chapter 7 Liquidation • Chapter 13 Reorganization
With a business and accounting background, Attorney Vicki K. McCarthy was one of the first attorneys in the area to offer comprehensive personal bankruptcy services to Dallas Ft. Worth-area clients. Since 1988, she has been helping individuals paralyzed by crushing bills, credit card debt, and collection calls to obtain debt relief through filing for personal bankruptcy. Contact the Law Office of Vicki K. McCarthy for a free consultation on your bankruptcy needs.
Personal & Small Business Bankruptcy
Owe money? Bills stacking up? Get relief from your debts! Federal bankruptcy relief allow you to keep your home, auto, and most of your other property. It will STOP:
• Foreclosures
• Repossessions
• IRS wage levies and garnishments
• Creditors collection efforts and harassment
• Lawsuits
Chapter 7 Bankruptcy (Liquidation)
Chapter 7 Bankruptcy will wipe out:
• Credit Card Debt
• Medical Bills
• Judgments
• Certain Taxes
• Repossession deficiency
• Give back unwanted secured property
Chapter 13 Bankruptcy (Reorganization)
Chapter 13 allows you to reorganize your debt. It allows you to:
• Reduce Monthly Payments
• Past Due Mortgage Payments
• Give back unwanted secured property
• Reduce and pay back IRS debts
• Small Business – No Problem! Reorganize and become profitable through Chapter 13
Understanding the Ever-Changing Bankruptcy Reform Act
We stay up-to-date on the constant changes to bankruptcy laws. We are prepared to help you discover whether you qualify for Chapter 7 liquidation bankruptcy or whether a Chapter 13 debt repayment plan would be better for you.
Contact Us for Personalized Guidance and a Free Consultation.
Whether your need for debt relief is urgent or you are simply considering it as an option, do not hesitate to contact us to schedule a free consultation. We will give you all the information you need to decide whether a bankruptcy is right for you. If you do decide to file with our office, we will help stop the collection calls and harassing letters as soon as possible.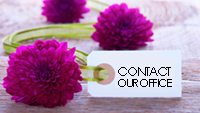 CONTACT US
contact our office by clicking the link above